The market for LED grow light is thriving and anticipates rapid growth. According to the latest data of LEDinside, the global LED market for horticulture lighting recorded a value of US$52 million in 2017, and the number is expected to reach US$150 million by 2022, a CAGR of 24%. In response to this trend, the Hong Kong International Lighting Fair this year set an area for horticulture lighting, which showcase a wide range of grow light for both household and factory. LED manufacturers have been actively laying the foundation for the expanding market.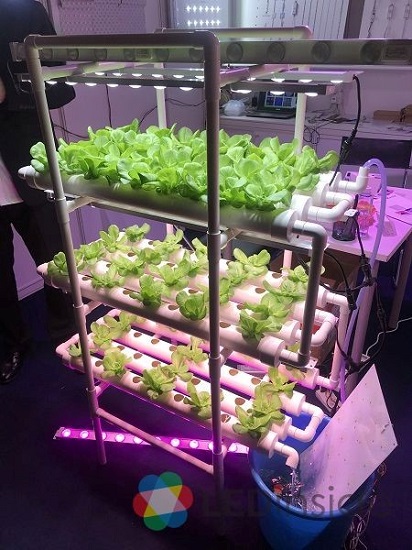 Koray Opto-electronic's patented plant grow light utilizes a unique lens design to enhance luminous efficacy. (Source: LEDinside)

LEDinside points out that, compared with other light sources for horticulture lighting fixtures, LED has obvious advantages in terms of spectrum, longevity, and environmental-friendly. In recent years, the market acceptance of LED light has accelerated as the prices drop, and the number of plant factories has been growing. In addition, due to food safety issues, household plant factories are emerging.
In the past two years, China has become an important regional market of LED grow light for both domestic and foreign manufacturers. For example, Mitsubishi Chemical and JD.com have cooperated to build plant factories and sell vegetables on their own, while local companies such as Sanan Sino-Science have also invested heavily in plant factory construction. The United States and Mexico, etc., have seen potential demand for cannabis cultivation, and the demand for greenhouse lighting is also growing due to the lack of sunlight.
Cooperation between industry and academia promotes the development of horticulture lighting
For LED manufacturers, making a lamp is one thing, but making one that really helps plants grow is quite another. Under such circumstances, cooperation between industry and academia has become the key to promoting development. For example, Fuzhou Huifeng Lighting Technology, Fuzhou University and Fujian Agriculture and Forestry University have cooperated to develop LED plant grow light with high efficiency and high reliability. They have produced household grow lights, 150cm tall, with a power of 60W or 120W, which can be used for growing vegetables, fruits, spices, flowers, etc.; they also offer 10W table grow lamp which can be used for growing flowers. There are also lighting products for plant factory, which combines automated technologies like light/temperature/humidity control and fertilization.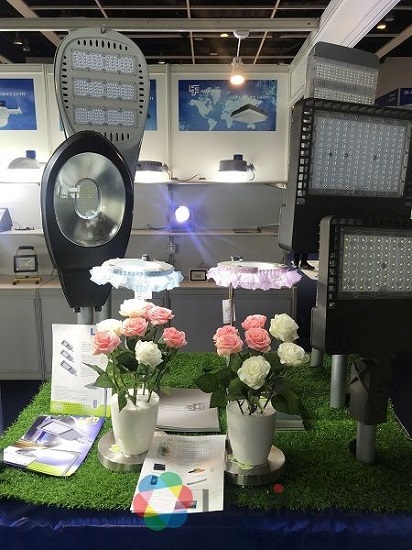 Fuzhou Huifeng Lighting Technology showcases 10W table grow lamp. (Source: LEDinside)

TITANS, a Hong Kong lighting company, is another case of industry-academia cooperation. The company exhibited its 240W grow light for greenhouses, which features aluminum alloys fixtures made with a patented die-casting technology. This design solves the problem of heat dissipation. The company cooperated with Nanjing Agricultural University to research on the spectrum. They did experiments with lettuce, tomato and pepper, and found out that plants have different needs of spectrum and controlling the spectrum can effectively increase the growth rate and yield of crops. At present, TITANS' sample products have been sent to customers in Hong Kong, China, North America, and Europe. TITANS said that the company is developing horticulture lighting with the aim to improve the quality and quantity of plants, solving issues like food safety. In addition, the plant factories can also let children living in urban places have a deeper understanding of plants, showing educational significance.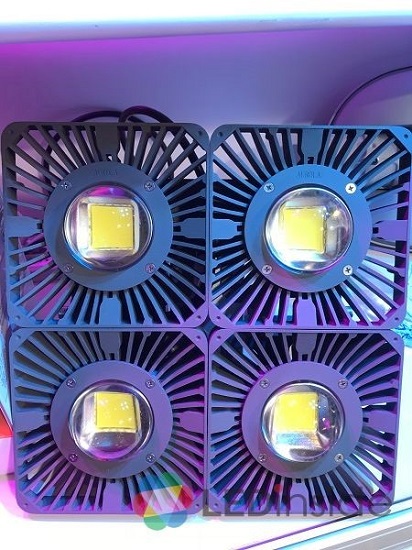 TITANS's grow light uses aluminum alloys with better heat dissipation performance and impact-resistant/corrosion-resistant crystal glass lenses. (Source: LEDinside)
LED companies cut into horticulture lighting industry

BoomLED is a Shenzhen-based company that originally focused on commercial lighting. After two years of research and development, BoomLED launched VegeBox, a 55W hydroponic growth box that consumes only 1 kWh per day. The box contains all the utensils and nutrient solution the plant needs at each stage. Users can also stack multiple boxes to increase planting capacity. This product had its debut in this exhibition and is expected to be formally released in China in May. The company has also actively negotiated with agents in the United States, Japan and Europe.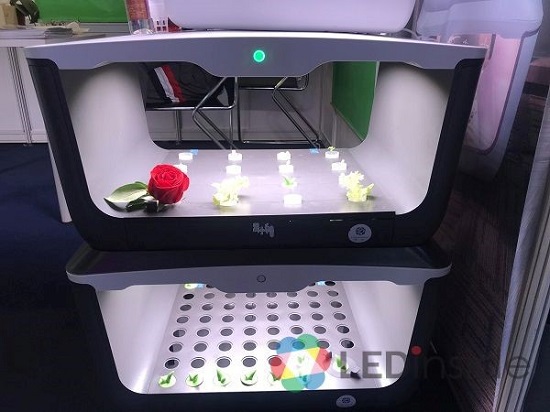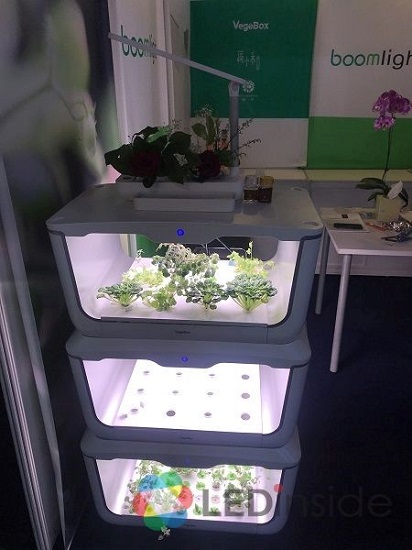 (Source: LEDinside)
Shenzhen Avatar Optoelectronic Technology is a company with special focus on LED light source packaging, and its products cover 2835, 3030, 3535, 5050, 5730, etc. The company also provides red, blue, green, yellow, purple, RGB, pink, and full spectrum light sources, which can be used for grow lights at plant factory or household.
However, some buyers at the exhibition questioned the lack of illumination for indoor plant growth and the selection of crops is limited. This type of household grow box remains in the early stage of development, and it needs further observation whether the products can meet the needs of consumers.