The On-going LED Horticulture Lighting Market Expansion
According to the research of LEDinside, the market scale of LED plant lighting will reach US$ 224 million in 2018 and is estimated to grow to US$ 633 million by 2022, with a CAGR of 30% during 2018-2022. Many LED producers have entered the market of horticulture lighting to share the expanding opportunities when the demands in the general lighting market are relatively weak. LEDinside has collected the updates of horticultural applications from LED firms of the world.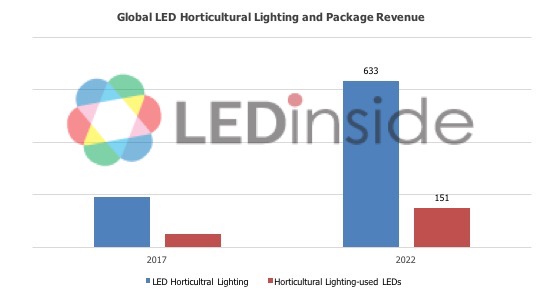 Europe
Europe accounted for 35 percent of the global LED plant lighting market in 2017 and is reaching 37 percent in 2018 with many European countries proactively promoting plant factory and providing subsidies to spur the local demands. European LED suppliers have developed full range horticultural products and broadened collaboration with different partners.
Osram
Osram has acquired the U.S. based Fluence Bioengineering and invested in the Canadian startup Motorleaf to expand its horticulture portfolio. The company aim to integrate its expertise in lighting technologies and the horticultural knowledges from the partners to develop full range lighting solutions for plants to improve the yields and quality of crops. Osram has also developed customized LED lighting system for NASA to research the possibilities to grow food during space travel.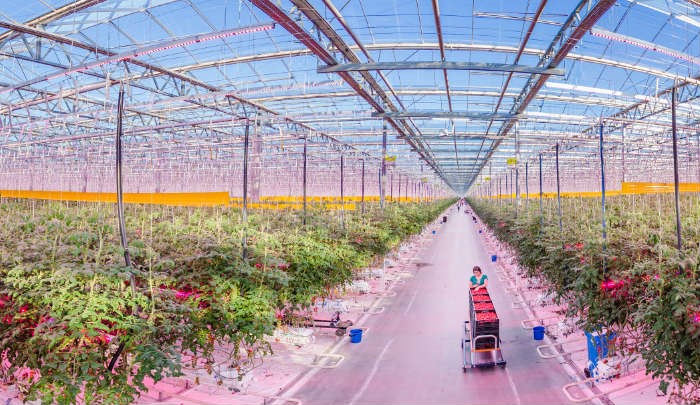 (Image: Signify)
Signify
Signify cooperated with Agro-Inwest, a Russian food supplier in 2017 with 25 hectares of greenhouses installed with Signify's LED horticultural lighting products. In 2018, Agro-Inwest decided to expand the size to 68.5 hectares as the installation generated significant enhancement in energy reduction and crop quality increase.
Plessey
The British LED producer, Plessey, has provided its LED growing light for Sterling Suffolk's new tomato greenhouse which measures 54,400 square meters. Plessey also worked with a Belgian company with the same product for building a new sustainable greenhouse.
North America
In North America, many startup farms and food suppliers have been adopting LED horticulture lighting to tackle the obstacles of weather. The long winter and short day light have always been the limiting factors for farming and LED lighting has become a sustainable and efficient option to solve the issues. Many LED providers have thus worked with local and international food producers.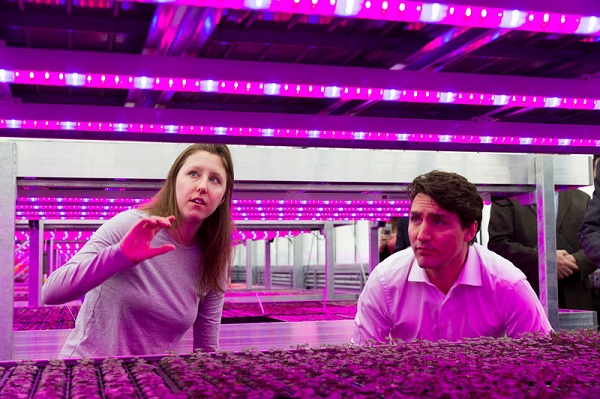 (Image: Current by GE)
Current by GE
With the cooperation with Jones Food Company, Current by GE has been building the largest indoor farm in Europe. The construction would be installed with the company's Arize LED horticultural lighting solution for more than 12 km. The new capacity is expected to produce up to 420 tons of leafy greens per year with the first harvest in autumn 2018. In Canada, Current by GE has teamed up with Hort America to provide lighting solutions for hydroponic rooftop greenhouses of a Montreal based local food supplier, Lufa Farms. The installation helped to increase the production of crops and the successful story also attracted attention of Canadian Prime Minister, who visited the company when the new greenhouse was launched.
Luminus
Luminus Devices announced that the company has expanded its horticulture LED portfolio with new white LED series to provide products with more wavelengths for growers to maximize the production yields.
Asia
Asia is the most populated area in the world. Implementing LED horticulture lighting to increase the production of crops could be an efficient way for Asian food growers. LED makers in Japan, Korea, China and Taiwan have reported their progress of developing special LEDs for horticultural applications.
LG Innotek
In the beginning of July, LG Innotek announced to release 30 different types of horticulture LEDs including visible light LEDs and UV LEDs. The company aims to expand the products to lighting and module companies in Asia, Europe and North America.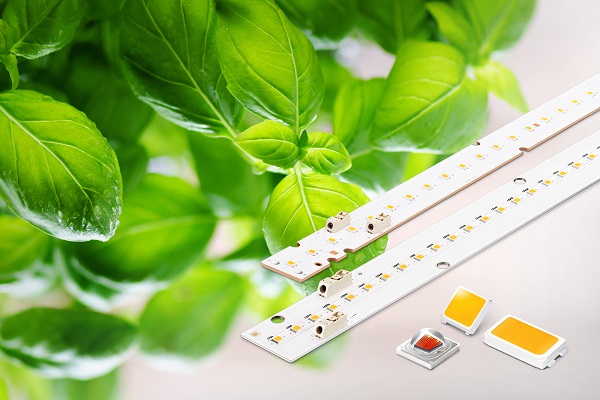 (Image: Samsung Electronics)
Samsung Electronics
Another LED giant in South Korean, Samsung Electronics has also launched a new horticulture LED lineup in May with a feature of its advanced "red LED" package.
Nichia
Nichia has revealed that the company has set up a laboratorial plant factory in Shanghai. Through integrating its exclusive technologies of phosphors and LEDs, Nichia has been developing different LED solutions to provide light sources which can stimulate particular ingredients of plants for enhancing their medicinal effects.plant grow light
Everlight
Taiwanese LED packaging company Everlight has demonstrated its horticulture LEDs and luminaires during LIGHTFAIR International 2018 in Chicago. Featured with color combination, the LEDs could meet the requirements of specific spectrum and optical functions.solar street light
Foxconn
Foxconn has turned an old plant into one of the biggest vertical plant factory in China covering an area of 5000 square meters. The plant factory has 14 levels of growing racks and can produce 2.5 tons of vegetables per day with the installed LED lighting devices and hydroponic system.
Sanan Optoelectronics
Sanan Optoelectronics and Institute of Botany at Chinese Academy of Science have founded a joint venture in 2015 and they have renovated a high-tech based plant factory which is 5000 square meters and can produce 8-10 tons of vegetables as the company claimed.
LED manufacturers worldwide have been developing technologies for innovative approaches of horticulture to overcome the limitations of geography and weather. It is expected that LED lighting applications can provide sustainable solutions to ease the environmental impacts of farming when facing the challenge of global warming.